NEWSFLASH!
Android Auto and Apple Carplay are now available to be retro-installed in Mazdas with the MZD Connect system. To order or check the compatibility of your Mazda telephone (08) 9232 4556 or service@parkland.net.au or use the contact form on this page. Please note though stocks are limited at first.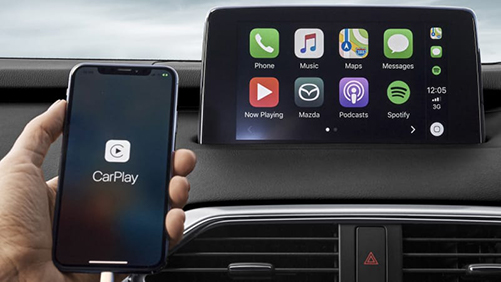 We look forward to providing you a genuine Mazda service to maintain your vehicle in tip-top condition. Mazda recommends regular servicing every 12 months or 10,000km, whichever comes first. Service Select pricing from Mazda ensures the best value for you. Check out the following video for an introduction to our new service facilities and complimentary amenities.
Terms and Conditions: One entry for each and every paid Mazda Service Select recommended log book service. Winner is randomly selected at the end of each week. Only private buyers are eligible (fleet and company vehicles are excluded). Winners' refund is restricted to the Mazda Service Select recommended service price as specified by model. Winners' refund does not include any extras including but not limited to normal wear and tear items eg. betteries, tyres, wipers blades, nor the purchase of accessories. Winners' refund does not include additional maintenance items. Winners are drawn at the end of each month. Winners' agree to use of their image upon social media. Judges decision is always final. Competition ends February 28th 2019. See www.mazda.com.au for Mazda Service Select Pricing or call us on 08 9232 4556.